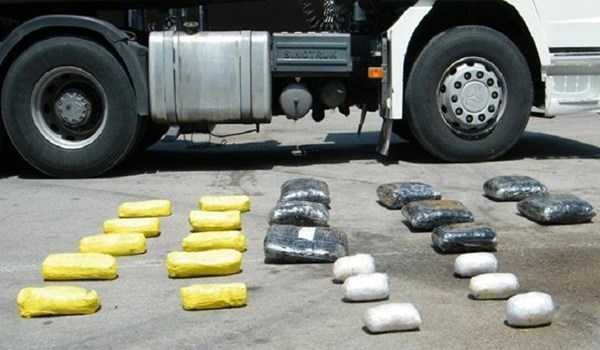 WASHINGTON, D.C. - Two individuals associated with a drug trafficking organization (DTO) based in Mexico have admitted their guilt today in the District of Columbia for the charges of importing and distributing narcotics, the Department of Justice reports.
On June 16, another member of the DTO pleaded guilty to the same charges.
According to the Department of Justice, Angel Adan Valenzuela, aged 25 and from Rio Rico, Arizona, along with Benjamin Soto Jr., aged 47 and from Nogales, Arizona, and Refugio Veronica Quintero Moreno, aged 46 and from Rio Rico, Arizona, collaborated with additional individuals to regularly transport drugs from Mexico. Their preferred method involved using cars to bring the narcotics through the Nogales port of entry and subsequently distributing them across various locations in the United States.
ADVERTISEMENT:
Following the importation of narcotics into the United States, Valenzuela and other couriers proceeded to transport them to a shipping facility located in Nogales. At this facility, the packages were prepared for shipment and subsequently distributed to various cities across the United States.
Click here for the latest news updates and to join in the conversation.
Soto and Quintero Moreno, who were employed at a commercial shipping company in Nogales, were
involved
in a practice where they accepted packages from couriers without asking for identification or payment. These packages contained narcotics, and they would then fraudulently mail them using the company's existing business accounts.
Valenzuela made payments to employees of the shipping company on behalf of the DTO for their involvement in shipping controlled substances. This includes Soto and Quintero Moreno, who received regular payments in Mexico for their contribution in facilitating the transportation of narcotics.
Between September 2021 and November 2021, a total of 21 packages were detected and intercepted by agents. As a result, more than 30 kilograms of methamphetamine, 20 kilograms of cocaine, seven kilograms of fentanyl, and four kilograms of heroin were seized.
Valenzuela, Quintero Moreno, and Soto have admitted their guilt in relation to a two-count indictment. The charges against them include conspiring to import significant quantities of cocaine, methamphetamine, fentanyl, and Ritalin, as well as conspiring to distribute these substances.
Soto and Quintero Moreno have a scheduled sentencing date of November 15, while Valenzuela is set to be sentenced on November 16. Each individual is subject to a mandatory minimum sentence of 10 years in prison for each count. The responsibility of determining a sentence lies with a federal district court judge. The Department of Justice says judges take into account various factors, including the U.S. Sentencing Guidelines and other statutory considerations.
The announcement was made by Assistant Attorney General Kenneth A. Polite, Jr. of the Justice Department's Criminal Division and Special Agent in Charge David G. Nanz of the FBI Springfield Field Office.
The case is being investigated by the FBI Springfield Field Office, with substantial assistance from Homeland Security Investigations - Arizona, and the FBI Tucson Field Office.
The case is being prosecuted by Trial Attorneys Douglas Meisel, Mingda Hang, Kate Naseef, and Samantha Thompson from the Criminal Division's Narcotic and Dangerous Drug Section.