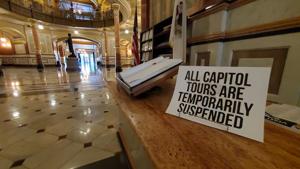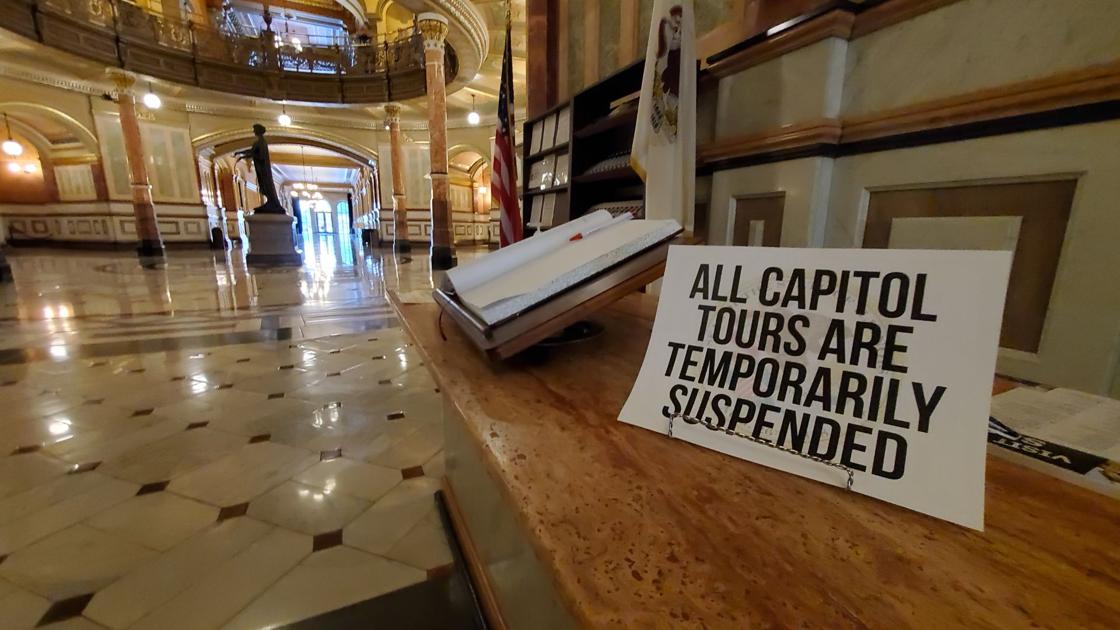 (The Center Square) – Paying to work? You wouldn't do it, and journalists shouldn't be asked to pony up on the job, either.
But that's precisely what the Illinois State Senate wants from The Center Square and any other media organization that seeks to access the Senate's workspaces during the 2021 General Assembly, which is scheduled to run through the end of May.
Sometimes bad ideas start in state capitols. Sometimes they start on Capitol Hill. This pay-to-enter plan appears to have origins in the Biden White House, where – in full-on Swamp splendor – they have floated a plan to start charging journalists $170 every day for COVID tests.
Illinois Senate spokesman John Patterson sent the Illinois Legislative Correspondents Association an email that said anyone who wants to cover the Senate in-person – which has been virtually impossible over the past year – take two COVID-19 saliva tests every week. The cost of each test is $30, payable by the news outfit.
Patterson wrote:
"As the Senate begins to transition back to in-person activities, we have implemented a testing requirement that applies to employees, staff and members. This would also apply to media when we return next week.
"We have implemented the University of Illinois saliva test, which is done twice a week to ensure anyone in Senate facilities is negative for COVID-19. This is the same process used at the University of Illinois. Essentially you show your negative test result email to gain access.
"All online access will continue for anyone not wanting to be tested. The ILCA offices will continue to be available regardless. This testing requirement is only for in-person in Senate facilities (offices, committees, Senate chamber). Health and safety guidelines do also remain in effect. That means even with the testing, the press boxes are limited to three spots, as is the overhead TV gallery.
"The cost of the test is $30 per test per person. Media outlets would be required to cover the cost. (Yes, I know I buried the lede.)"
Uh, yeah, you did.
Even here in Illinois, where far too many politicians regard the First Amendment as a suggestion and transparency as an afterthought, this is a new low.
Journalists haven't been documented as vectors for transmission. Our reporters don't work when they're ill. We've had three documented cases of COVID on our team, nationally – statistically below the national positivity rate – and none of the cases involved staffers covering Illinois. And when our team members tested positive, they stayed home. And they recovered like more than 98 percent of all people who contract COVID-19.
The journalist's job is often a thankless one, made more complicated during lockdowns here in Illinois and virtually everywhere else in the world.
Governments of all shapes and sizes – but particularly those in Blue states – across the country have taken any and every opportunity to grab power and keep their actions hidden from journalists and taxpayers. They've limited access, cut working days, and ensured the lowest possible levels of public transparency. This new testing requirement escalates all of that.
Look, $60 a week won't break us. We can cover that. But not every news outlet in the state could come up with an unanticipated $60 per person – which disproportionately impacts small-market television stations, for instance, which need a multi-person crew to get the job done.
But why should any news outlet pay to be eligible to cover the news? And why should media even be asked? I have no reasonable answers for those rhetorical questions. Fact is, we shouldn't on either count.
And what about the voices of the people who would come forth and testify at these Senate hearings and before the committees? Many of them are composed of people from nonprofits or private citizens and simply want to be heard. This blocks them, as well.
This is an arbitrary and capricious impediment – partisan virtue signaling – that flies in the face of science, of the First Amendment, and of We the People's Constitutional right to a free press.  
* * * *
Elsewhere in America…
MAINE
Lawmakers in Maine's Legislature are moving toward passing a budget provision that would exempt many businesses from having to pay state taxes on loans they received from the federal government as part of the Paycheck Protection Program. But the proposal would still require businesses that took more than $1 million in loans to pay those taxes, which has Republican legislators incensed. About 28,000 businesses would be spared from having to pay the taxes if the Democratic proposal goes into effect, while 251 would be stuck with a tax bill. Congress exempted forgiven PPP loans from federal taxes, but Maine is one of 18 states where loans are taxed.
NEW YORK
In the face of increasing calls for his resignation, both from within his party and without, Gov. Andrew Cuomo remained defiant last week, proclaiming "I am not going to resign" and accusing those who think he should step down of playing politics. Cuomo's reputation has been buffeted by twin ongoing scandals, as his administration combats accusations that it covered up evidence that its decisions in March 2020 to force nursing homes to accept COVID-19 patients caused thousands of deaths. At the same time, he's also been personally accused of sexual harassment and other inappropriate behavior by three women, two of whom were formerly staffers under his authority.
PENNSYLVANIA
During budget hearings last week in the Pennsylvania House Appropriations Committee, the state Department of Human Services came under withering criticism from lawmakers infuriated by a request for $941 million in additional funding. Human Services Secretary Teresa Miller said years of underfunding in past budgets, combined with the financial impact of the pandemic, forced the almost billion-dollar additional request. But Appropriations Chairman Stan Saylor lambasted Miller and her department, accusing them of frittering away an ever-growing budget with little to show for it in the way of results.
OHIO
A $7 billion transportation bill that looks a little different than the one Ohio Gov. Mike DeWine proposed overwhelmingly passed the Ohio House on Thursday afternoon. The House Finance Committee earlier had stripped out DeWine's $10 increase in vehicle fees, removed plans to increase fines for distracted driving and reduced fees on alternative fuel vehicles. The two-year transportation budget, House Bill 74, provides money for road and bridge construction and maintenance, as well as other transportation priorities established by the committee and DeWine.
MICHIGAN
Lansing became a churning cauldron of alleged improprieties last week when it was revealed Robert Gordon, the former director of the state's Department of Health and Human Services, took a payout of $155,506, or the equivalent of nine months' pay, upon his abrupt resignation in January. Gordon was responsible for issuing the pandemic orders that sent COVID-19 patients into the state's nursing homes and residential facilities. Nearly one-third of Michigan's COVID-19 related deaths occurred in long-term residential homes.
One day later, it was reported Steve Gray, former head of the state's Unemployment Insurance Agency, received a payout of approximately $76,626 and another $9,246 for his attorneys after he resigned last November. Gray received his payout within 10 days of his resignation after thousands of Michigan residents waited months to receive unemployment benefits as a result of government-imposed pandemic shutdowns.
Both Gordon and Gray signed confidentiality agreements with the administration of Gov. Gretchen Whitmer. The governor stated she "really bristled" at the suggestion the payouts were, in effect, hush money.
Whether or not the two issues are linked has yet to be determined, but questions still linger as to whether Gordon's resignation is related to the number of nursing home deaths in the state as a result of the MDHHS emergency health order. In the meantime, Pulitzer Prize-winning journalist Charlie LeDuff is suing the state to obtain data on the state's nursing home deaths.
ILLINOIS
Illinois' long-term debt passed a grim milestone last week when ratings firm Moody's Investors Service announced that the state's adjusted net pension liabilities (ANPL) spiked 19% in 2020 to $317 billion. The figure was $261 billion in 2019. Distributed evenly across Illinois' approximately 12 million residents, that amounts to roughly $25,000 per person. Despite the ballooning pension debt, Illinois' annual payments into the five taxpayer-funded systems already account for about a quarter of the state's annual operating budget.
INDIANA
Indiana's new attorney general, Todd Rokita, signed onto a letter to President Joe Biden on Monday, asking him to pull his nomination of a critical race theory lawyer to be one of the top attorneys at the U.S. Department of Justice. The letter goes on to say that given the nominee's recent comments about police, putting her in a senior position at the Department of Justice would "seriously damage" the relationship the department has with law enforcement agencies.
MINNESOTA
Despite direction from the U.S. Congress and the U.S. Internal Revenue Service that the COVID-19 Relief Paycheck Protection Program business loans be exempt from taxes, Gov. Tim Walz and Democratic senators have signaled their respective desire to tax the PPP loans anyway. More than 30 states, including all of Minnesota's neighbors, have conformed with the Internal Revenue Service tax code and won't tax those loans.
Freedom of Information Act research conducted by The Center Square reveals Minnesota cities relied on taxpayers to foot police-settlement payouts ranging from $50,000 to more than $24 million between 2018 and 2020. In Minneapolis, population 425,000, payouts from police damages in those two years totaled $24.3 million. The most costly settlements were for police misconduct, 30 of which cost taxpayers 96% of the total cost, or $23.4 million.
IOWA
The Commerce Committee of the Iowa Senate advanced a bill that would prohibit any political entity in the state from entering into contracts or providing tax incentives to companies that restrict viewing constitutionally protected content online. According to the text of SF 402: "A company shall not intentionally affect the ability of a citizen of this state to view, comment, or otherwise interact with a United States citizen's content on the company's internet site by limiting, blocking, or otherwise restricting any content on the company's internet site if the content constitutes constitutionally protected speech."
KENTUCKY
Kentucky Gov. Andy Beshear received a legal victory Wednesday after a state judge ruled in his favor and granted a temporary injunction against three laws passed by the General Assembly earlier this year that seek to limit his authority during emergencies.  Franklin Circuit Judge Phillip Shepherd issued orders against House Bill 1, Senate Bill 1 and Senate Bill 2. In particular, the order – for now – strikes down the 30-day limitation on the governor's emergency orders and administrative regulations, which were the focus of the two Senate bills. 
VIRGINIA
Legislation that would prohibit restaurants from using plastic foam takeout containers could add more financial stress to businesses struggling to recover from the COVID-19 pandemic, according to members of the business community. Gary Cohen, the executive vice president of a regional chain Glory Days Grill told The Center Square the legislation is another blow to the restaurant industry. The chain operates 15 locations in the commonwealth. Glory Days Grill also operates seven locations in Maryland, which has a similar ban in place. Cohen said the prohibition cost them about $38,000 in added costs per year per store. With more takeout during the pandemic, he estimates the costs are currently even higher.
WEST VIRGINIA
An amended version of legislation to expand the use of charter schools in West Virginia passed the Senate and is headed back to the House for consideration. Despite some tweaks to the original bill, the crux of it remains the same. It would allow the state to approve 10 charter schools every three years, which more than triples the current allowance of three per year. The Senate version would also permit a statewide virtual charter school and county-level virtual charter schools.
GEORGIA
A bill that cleared the Georgia House last week would save taxpayers $631 million over five years by raising the standard deduction on state income tax returns. Under the Tax Relief Act of 2021, the standard deduction for a single taxpayer would increase by $800 to $5,400 and by $1,100 to $7,100 for a married couple filing a joint return, starting in the 2022 tax year. The House also passed the Georgia Economic Recovery Act of 2021, which would allow or extend sales tax exemptions for manufacturers and businesses that create jobs, and the Georgia Economic Renewal Act of 2021, which would eliminate the job cap for the state's job tax credit.
NORTH CAROLINA
The North Carolina General Assembly approved a $1.7 billion COVID-19 relief spending package. The measure allocates $600 million for COVID-19 testing, tracing and other COVID-19 prevention measures. It also would issue more than $300 million in child care and development grants to be used for cleaning and sanitation and copayment assistance. The bill also allows local tourism authorities to apply for federal Paycheck Protection Program loans, and any part of the loan that is not forgiven would be repaid with occupancy tax revenue collected by the authority. The spending plan awaits Gov. Roy Cooper's signature.
SOUTH CAROLINA
State Sen. Tom Davis, R-Beaufort, has filed legislation to establish a legal medical marijuana program in South Carolina. Under the measure, patients could purchase up to 2 ounces of marijuana or an equivalent derivative every two weeks. The bill allows marijuana use for people suffering from debilitating illnesses ranging from epilepsy to PTSD.
LOUISIANA
Louisiana Attorney General Jeff Landry announced a settlement between oil-and-gas company Freeport-McMoRan and coastal parishes alleging environmental damage. Oil-and-gas leaders and proponents characterized the deal as secretive and counterproductive for the state's economy and coastal restoration. Landry said the settlement releases Freeport from liability for any current claims. In exchange, Freeport would deposit $15 million into an escrow account and make additional annual payments, contingent on legislative action, of $4.25 million over 20 years.
WISCONSIN
The lingering doubts surrounding the integrity of the November 2020 national election has led a state lawmaker to introduce legislation to remedy prospective improprieties, which include new restrictions on those who claim to be indefinitely confined; a requirement for the Elections Commission to create a single, statewide absentee ballot form for all municipalities; a proposal to allow a voter's immediate family members, or designated appointee to return a completed absentee ballot; a prohibition on employees of a long-term care facility from influencing a voter's decision; a prohibition on local election officials from accepting outside donations to pay for election operations.
State legislators are also advocating increasing options for school choice in Wisconsin. Among bills under consideration are AB 59, which increases the income threshold for parents who want to enroll in Wisconsin's Parental Choice program to 300% of the federal poverty level, or about $78,000 a year for a family of four; AB 62, which allows students who attend a virtual charter school to play high school sports in Wisconsin; AB 118, which allows students to take virtual classes in a charter school or traditional school during the next school year. Currently, open enrollment rules mean kids must take in-person classes. AB 119 would end Wisconsin's open enrollment cap of just three outside school districts. This plan would allow students to apply to more virtual schools, and give them a better chance of finding an open spot.
TEXAS
Nearly one year after first shutting down the state last March, Gov. Greg Abbott announced that Texas would reopen 100% beginning March 10. The statewide mask mandate is also terminated effective next Wednesday. "With the medical advancements of vaccines and antibody therapeutic drugs, Texas now has the tools to protect Texans from the virus," Abbott said. "We must now do more to restore livelihoods and normalcy for Texans by opening Texas 100%. Make no mistake, COVID-19 has not disappeared, but it is clear from the recoveries, vaccinations, reduced hospitalizations, and safe practices that Texans are using that state mandates are no longer needed."
COLORADO
The Colorado state Senate last week approved Gov. Jared Polis' first five appointments to the revamped Colorado Oil and Gas Conservation Commission, the state's oil and gas regulatory body. Senate Republicans criticized the appointments for failing to represent Colorado localities that have significant oil and gas development. "There is no representation from northeast Colorado, or northwest Colorado," Sen. John Cooke, R-Greeley, said. "Rio Blanco, Garfield, Mesa, other high producing counties are not represented on this board."
ARIZONA
The U.S. Supreme Court heard oral arguments in the consolidated case of Brnovich v. Democratic National Committee and Arizona Republican Party v. Democratic National Committee. At issue is Arizona's ban on ballot harvesting, a process where someone other than an immediate family member, caretaker or resident of the same home delivers an early ballot. Also in question is the state ban on out-of-precinct voting. Lawyers for Arizona Secretary of State Katie Hobbs and the DNC want the court to uphold an appellate ruling that said the two laws ran afoul of the Voting Rights Act. Republicans say the measures prevent fraud. The opinion is expected later this summer.
CALIFORNIA
A group of 25 California legislators is seeking to restore businesses' net operating loss deductions and incentive tax credits in the state's new budget. The lawmakers laid out their reasoning in a letter sent to the chairs of the of the Assembly Budget Committee and Assembly Budget Subcommittee on State Administration. The letter notes that California ranks second to last among the states on the Tax Foundation's 2021 State Business Tax Climate Index. "Some of California's most storied companies are either leaving the state, expanding elsewhere or encouraging employees to relocate to lower-cost states," it says in noting the tax breaks are necessary.
* This article was originally published here
HELP STOP THE SPREAD OF FAKE NEWS!
SHARE
our articles and like our
Facebook
page and follow us on
Twitter
!